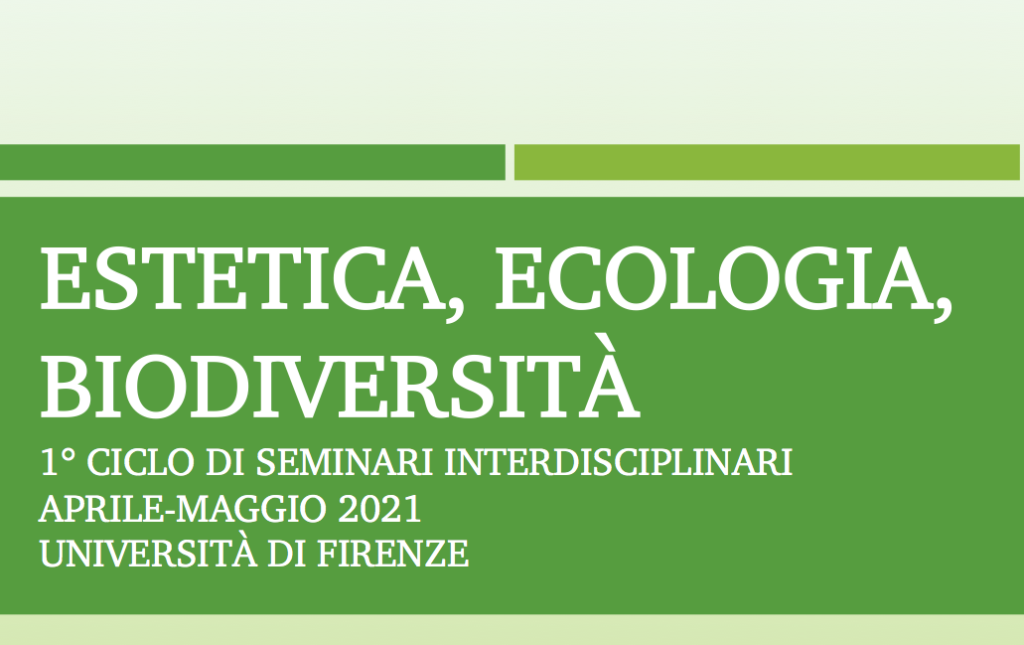 Inscription open via EventBrite (https://www.eventbrite.com/e/estetica-ecologia-biodiversita-1-ciclo-di-seminari-interdisciplinari-tickets-145240932539); or send a message to mariagrazia.portera@unifi.it.
15 /04/ 2021, h15-17:
Leonardo Dapporto (Università di Firenze) e Mariagrazia Portera (Università di Firenze), Presentazione del progetto "Unveiling, assessing and taking advantage of the aesthetic dimension in conservation practices: butterflies as a case study, between new theoretical insights and practical applications", obiettivi e sviluppo;
Fabrizio Desideri (Università di Firenze), Estetica e biodiversità: un paradigma possibile;
Alessandro Minelli (Università di Padova), Oltre i numeri e le forme – i molti aspetti della biodiversità;
Franca Zanichelli (naturalista; ex Parco dell'Arcipelago toscano), La bellezza nell'osservazione naturalistica. Il punto di vista del visitatore dei parchi naturali 
22 /04/ 2021, h15.00-17:
Giancarlo Sturloni (SISSA, Trieste), Le parole della crisi: perché comunicare la crisi ecologica è così difficile? 
29 /04/ 2021, h15.00-17:
Serenella Iovino (University of North Carolina at Chapel Hill), Environmental Humanities. Istanze, obiettivi, prospettive
6 /05/ 2021, h15.30-17:
Daniela Fargione (Università di Torino), Un esempio di ecologia letteraria: Flight Behavior di Barbara Kingsolver
13 /05/ 2021, h15.30-17:
Mauro Mandrioli (Università di Modena e Reggio Emilia), Tra natura e cultura. Sostenibilità ecologica e scelte alimentari 
20 /05/ 2021, h15.30-17:
Emily Brady (University of Texas, A&M), Aesthetics, ecology and climate change. A philosophical approach
27 /05/ 2021, h.15.30-17:
Renato Bruni (Università di Parma), Non è verde ciò che è verde ma è verde ciò che piace. Siamo sicuri?