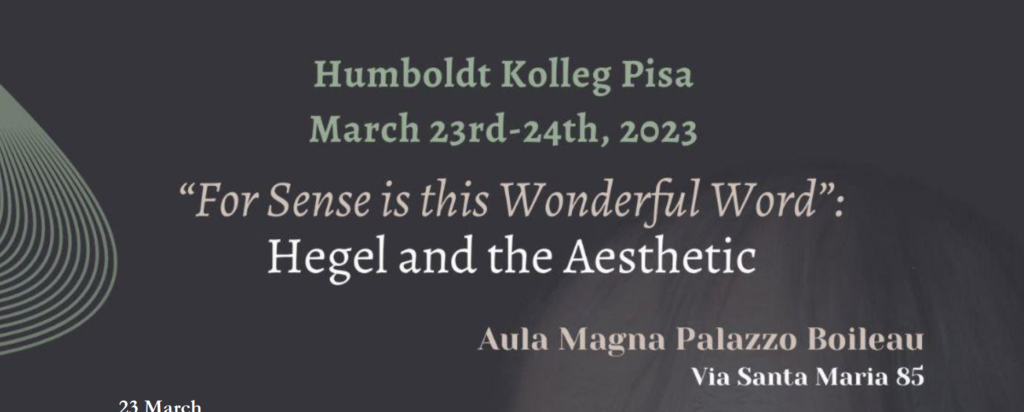 We cordially invite you to attend the International Meeting Humboldt Kolleg 2023
"For Sense is this Wonderful Word": Hegel and the Aesthetic"
Date: March 23 and 24, 2023
Venue: Aula Magna Palazzo Boileau (via S. Maria 85, Pisa)
Speakers: Marina Bykova (University of North Carolina), Francesco Campana (Istituto Italiano di Studi Germanici, Roma), Paolo D'Angelo (Università di Roma Tre), Mario Farina (IUAV, Venezia), Cinzia Ferrini (Università di Trieste), Michael Forster (Universität Bonn/University of Chicago), Bruno Haas (Université Paris 1 Panthéon-Sorbonne), Francesca Iannelli (Università di Roma Tre), Paul A. Kottman (New School for Social Research, New York), Christian Krijnen (Vrije Universiteit Amsterdam), Nicola Ramazzotto (Università di Pisa/Università di Firenze), Elena Romagnoli (Università di Pisa/Freie Universität Berlin), Alberto L. Siani (Università di Pisa), Klaus Vieweg (Universität Jena), Kenneth R. Westphal (Academia Europaea)
Presentation of the newly found transcriptions of Hegel's lectures on Aesthetics by Klaus Vieweg, and Francesca Iannelli.
Presentation of the Alexander von Humboldt Foundation Programs and Postdoctoral Fellowships by Alessandra Beccarisi, the Foundation's Ambassador Scientist for Italy.
Convenor: Alberto Siani, Dipartimento di Civiltà e forme del sapere University of Pisa
Sponsors:  Fondazione Humboldt | Società Italiana di Estetica (SIE).